About TinyTalk...

I started TinyTalk after reading about many hearing babies, born to parents where one was deaf and one hearing, being brought up bilingually, through sign and speech. Time and time again these babies were showing that they understood their parents' messages first through sign. They were also communicating first through baby signing. These articles often concluded with words to the effect of: "Surely there is benefit here for all hearing babies." I could see with my own experience and understanding how it could really work. I was interested in furthering my studies in this area of language acquisition with a Masters. However marriage and babies has put a stop to that for now!
I began baby signing with Harry to his amusement and my husband's cynicism. However six weeks later, when Harry reminded us, by baby signing, that he was aware that we had failed to give him his morning milk and that he would like it now please (!), we were both blown away. From 'milk', 'food' then 'more' came quickly. We then expanded our baby signing repertoire to include 'bath time', 'book', 'bed', 'duck', 'fish'…. and on and on we progressed, with Harry's understood vocabulary growing steadily larger and larger. Friends urged me to teach their children baby signing. I deliberated about teaching the baby signing signs 'dry' on their own, showing the parents and carers baby sign after baby sign. I didn't think about it for too long: there was no way that the babies would stand for it! I also wanted baby signing to be a lively session for them. Music classes are universally popular with most parents and singing well-known nursery rhymes and action songs seemed the natural way to also teach baby signing. Baby signing has always been a great way of having fun with language. I therefore wrote a term's scheme of work that was 12 lesson plans, covering all the core baby signs which related to home environment vocabulary as well as first speech sounds and words spoken.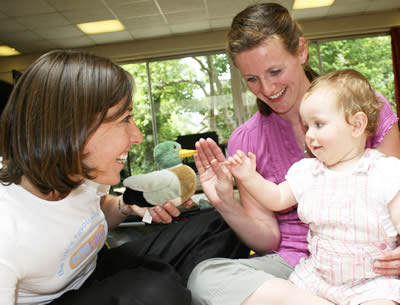 The first baby signing classes started just after Easter 2002. The reaction was incredible. The word that people kept using was 'raved'. One person that enjoyed my baby signing class would 'rave' to their friends about it and would come back the next week with either a couple of other mums or maybe even her whole antenatal group!! Local press, led to national press, which led to television interviews, including the exciting one on ITV's 'This Morning' (with Philip and Fern!) Although it all seemed so brief and one of our children cried (see the opening credits of the show to see Philip comforting Toby!) the interest in baby signing was phenomenal. People enquired after the Signing Pack, their nearest baby signing class, as well as how they too could teach the baby signing classes.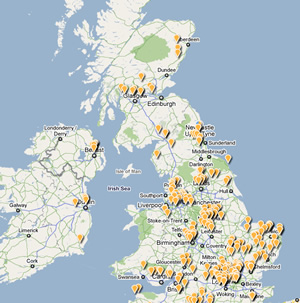 The national TinyTalk baby signing business began in May 2003 when the company was incorporated and the first group of baby signing teachers were trained. I then had my second baby, Lucy in June. (No - I wouldn't have planned to have my second baby and start a national baby signing business at the same time!)

Since then, TinyTalk Baby Signing Classes have gone from strength to strength. We've also grown up and now also offer TinyTalk Toddlers Classes which follow the same popular formula in a more physical, speech-focused way. Imagine parachute and language games with more wonderful books, fun, action songs and more themes of signs and words! We have an incredible team of trained and experienced teachers at TinyTalk, across the UK and Ireland, supporting thousands of parents and carers help their children communicate.
TinyTalk - a chronology
| | |
| --- | --- |
| April 2010 | TinyTalk founder and managing director Katie Mayne becomes Women's Enterprise Champion for the South East, working for the UK government. |
| September 2009 | The new TinyTalk Toddlers Classes are launched - extending the magic to older children - and advancing their communication skills. |
| April 2009 | The 100th teacher joins the TinyTalk team. |
| April 2007 | TinyTalk launch 'TinySign' - their baby signing classes in Australia. |
| January 2007 | The new TinyTalk curriculum is launched, complete with fabulous new songs, extra signs and the TinyTalk Signed Book Time. |
| November 2006 | The TinyTalk/ Amazing Baby 'Baby Signing' book is such a success in the UK that the US version is launched. |
| September 2006 | TinyTalk appears on the BBC's See Hear programme to discuss baby signing. |
| September 2006 | The TinyTalk Signing Pack & DVD are award-winning! They are both given a Silver award in the Practical Pre-School Awards 2006. Buy our award-winning resources here... |
| August 2006 | TinyTalk meets Mr Tumble! Justin Fletcher (better known as 'Mr Tumble'!) opens the Kidz@work nursery in Sheffield (one of the first nurseries in the UK to be trained in baby signing). Here's Tracey Spooner, TinyTalk teacher for Sheffield, with Justin at the opening. |
| September 2005 | TinyTalk publishes their baby signing book as part of the award-winning 'Amazing Baby' range of books by Templar. Beautifully crafted, with step-by-step photos of signs, it is sold in ELC, Mothercare, Waterstone's, Amazon, Tesco.com…. |
| August 2005 | TinyTalk hits the internet with a colourful and informative website. |
| September 2004 | TinyTalk gets the royal seal of approval! Sarah Collins, TinyTalk teacher for Ipswich, is recognised for her tremendous endeavours by being given Suffolk's Prince's Trust Young Achiever of the Year Award 2004. |
| July 2004 | TinyTalk starts school! TinyTalk's comprehensive (and OfSted approved) Nursery Programme is launched due to phenomenal demand from nursery managers needing guidance and training. |
| March 2004 | TinyTalk grows up fast! The 30th teacher is trained in just 10 months. |
| October 2003 | TinyTalk first exhibits, at The London Baby Show. |
| June 2003 | Lucy Mayne is born (second child of TinyTalk founder, Katie Mayne, and the continuing inspiration for TinyTalk). |
| May 2003 | TinyTalk becomes the 1st national UK baby signing organisation. TinyTalk is incorporated and the first TinyTalk teachers are trained. |
| February 2003 | TinyTalk gets noticed by the nation! Katie is interviewed by Philip Schofield and Fern Britton on ITV's 'This Morning'. The national press then get excited about baby signing featuring articles in national newspapers, magazines, on the radio, television… |
| April 2002 | TinyTalk is born. First TinyTalk baby signing classes start in Guildford, Surrey, attracting a lot of local then national attention. Bella magazine run a 2-page feature in December 2002. |
| May 2001 | Harry Mayne is born (first child of TinyTalk founder, Katie Mayne, and the inspiration for TinyTalk.) |
Find a class:

Our news
Why mums love us:
"I've been taking my daughter to TinyTalk since she was 9 months old. She's now 15 months and signs ..."
- Kate Appleby, South Croydon
OUR GALLERY: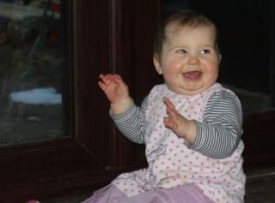 Jessica signs snow (caroline , Nottingham)
In our shop...

Complete set of all 3 CDs
£19.99
Now with 15% off to mark our 15th birthday this April! A complete set of CD's!