Become a baby signing teacher!
Teach baby signing with TinyTalk - and make money in a fun and flexible way!

More and more people are looking for a rewarding job that also includes their baby. The trouble is, there aren't many out there!
Being a TinyTalk baby signing teacher not only includes your baby if you want it to, it is also very social, worthwhile, rewarding (emotionally, intellectually and financially!) and lots of fun!
Why not find out more?
Send us your details - and we'll send you more information
if you are lively, enthusiastic, can sing, have an interest in baby signing (you need experience by the time you start your classes), organised, self confident and want a job that has flexible hours that fits in with family life and term time please ring the TinyTalk office on:

01483 301 444 or
01483 451 058
Or email us at:
And we'll get back to you as soon as we can.
Calling from outside the UK?
If you're calling from outside the UK about becoming a teacher, please call:
+44 1483 301 444 or +44 1483 451 058
About our baby signing teacher training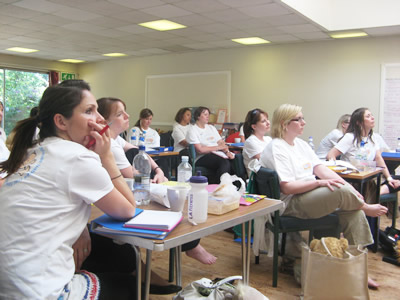 If you are interested in becoming a TinyTalk baby signing teacher, you will be supported and encouraged every step of the way. TinyTalk believes that your training and professional development is central to delivering quality baby signing classes. You will receive baby signing training at every level, individually as well as alongside the rest of the team at our Professional Development Days.
Whether you want to teach the minimum two baby signing classes a week or teach full time, whether you want to deliver our Baby Sign Language Programme to nurseries or are keen to take on a TinyTalk role of responsibility, we would be delighted to hear from you!
Why one of our teachers joined:
I love being a TinyTalk teacher. What else could be more fun?
I help parents/ carers to learn how to communicate with their babies with signing.
I enjoy a fun sing-a-long with lots of interaction and movement (it keeps me fit)!
I love socialising and meeting new people. I also enjoy watching the parents build new friendships.
I still get goosebumps every time I see a baby sign!
I never get tired of interacting with babies. I love the fact that they build strong relationships with me and are confident to come and join me at the front of the class with our singing and baby signing.
I love to see the babies grow, to see their first steps and hear their first words.
I enjoy choosing where and when I work.
I love watching both my family and my business grow.
I still get a buzz of excitement, running my own business, having a fulfilling career and being there for my family.
Thank you TinyTalk!
- Maria Holloway, TinyTalk South Norwich and Wymondham
Get more information on becoming a TinyTalk teacher >
One teacher's experience of taking her baby with her to class...

My little one Nathaniel comes along to class with me and is loving it! He made me laugh this afternoon because when I was unpacking and sorting my class things out, he got hold of my TinyTalk lesson plan wristlist, popped it on his arm and started to wave both hands !!
- Samantha Blakeman-Wallace, TinyTalk Leyland and Bamber Bridge
Why franchising is such a good business decision
by Rachel Elnaugh (ex- Dragon from BBC2's Dragon's Den).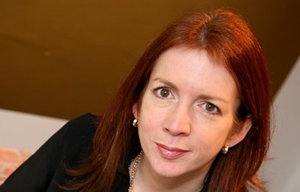 One of the UK's best known businesswomen and former panel member of BBC 2's Dragon's Den, Rachel Elnaugh, says:
To every new business venture there is a risk, but the secret is to find or develop an opportunity where the cost of entry is comparatively low and the risk minimal," said Elnaugh.
"The franchise model is an excellent way for individuals to start a business, and learn what they are truly capable of, with the resources and support in place to help them. For any franchise to succeed requires the passion of a local entrepreneur committed to their local community, who is not afraid of hard work and who wants to be well rewarded for the effort that they put in," she said.
"That person could be anyone who wants to work for themselves, to be their own boss, and make good returns, whilst providing a service that supports the local community.
Contact us for more information