Baby Signing in nurseries and other organisations
CLICK HERE TO FIND A NURSERY NEAR YOU THAT OFFERS BABY SIGNING FROM TINYTALK >
Introduce baby signing to
your nursery school
We'd love to train the staff at your nursery school to sign with their babies. If you work at a nursery, or know of one in your area that you feel would benefit from our programme, we'd love to hear from you. Please just fill and send the form below:

TinyTalk has been chosen by many nurseries across the UK and Ireland to train their staff in baby signing. Our training programme ensures that nursery staff feel confident about teaching and using baby signs with the pre- verbal children in their care.
CLICK HERE TO FIND A NURSERY NEAR YOU THAT HAS BEEN TRAINED BY TINYTALK >
Our Nursery Programme also includes an informative workshop for parents and a range of documentation to support your work.
We will demonstrate how your nursery will be meeting many aspects of the Early Years Foundation Stage framework through using baby signs.
Included in the cost of the package is the use of the TinyTalk logo for your nursery's advertising.
A case study
The Dereham Children's Centre invited TinyTalk to train their teachers to teach signing to their babies in 2008. The programme proved a huge success - with babies enjoying their signing sessions hugely.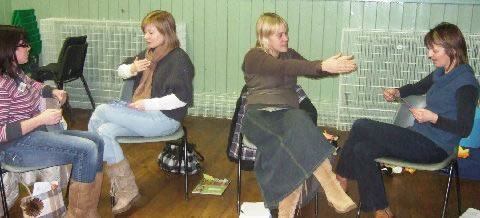 Staff at Dereham Children's Centre participating in the TinyTalk Nursery Programme.
"We enjoyed our training session with TinyTalk
And learnt to sign 'book' before 'look'.
We signed 'what?', 'where'? and who?', 'milk', 'more' and 'mine',
And now understand the value of sign."
Thanks again for the great training Maria.
- Catherine and Clare (Support teachers for Children's Services, Dereham, Norfolk)
CLICK HERE TO FIND A NURSERY NEAR YOU THAT OFFERS BABY SIGNING FROM TINYTALK >