The world's favourite baby signing classes from baby sign language experts TinyTalk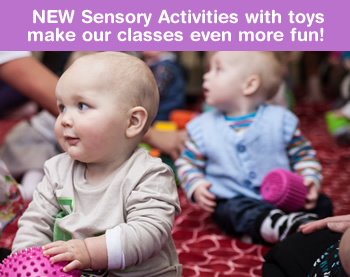 Waving, clapping, pointing, holding, passing... Let's get those fingers moving! TinyTalk's award-winning musical Baby Signing Classes have gone interactive...
NEW hands-on sensory activities will thrill your baby, teaching them communication skills at the same time. You'll have so much fun, you'll forget you're doing something important too!
At our sensory TinyTalk Baby Signing Classes.....
You'll experience bright and beautiful sensory toys, such as voile scarves, tactile rubber shapes, flashing balls, stretchy Lycra, bubbles, mirrors and stunning quality music.
You'll sing, bounce and giggle along to a range of fun nursery rhymes and action songs.
You'll learn a weekly theme of useful signs, related to words about the family, playing at home, going to the park, meal times, bedtime...
You'll play instruments to accompany the songs and read books together, to have fun with the signs, introducing your baby to the magical worlds within literature.
You'll have a 2nd half hour just for play time and refreshments, to recharge everybody's batteries! It's good to talk!
Why do YOU love Baby Signing? Click here to vote!
Using their senses, your baby will learn communication skills, fundamental to life. You'll help them to listen carefully, watch, sign and talk.
Your baby will develop their listening skills, as they hear the nursery rhymes, action songs and, specially written for TinyTalk, quality music from internationally-acclaimed composers.
Your baby will focus their visual tracking skills, as they follow the bubbles in the air, the flashing balls bouncing on the Lycra, and when they play peek-a-boo with you using the voile scarves.
Your baby will enhance their fine motor skills as they pick up and handle the tactile rubber shapes, the scarves and the instruments, helping them to clap, point, wave and sign!
Your baby will strengthen their vocal skills, as they babble, stick their tongue out, blow raspberries with you and begin to join in the songs.
It makes sense to sign up to TinyTalk Baby Signing Classes to help your little one learn how to talk- because chatter matters! Give your baby a voice with a little helping hand from TinyTalk. With over 500 classes running each week, just click on the orange tab, 'Find a class', above, to find your nearest class.
IN OTHER NEWS...
We're thrilled to have been selected by Tesco, helping them launch their brand-new Community Areas in their Extra Stores. Piloted first in Watford and Sunderland Tesco Extra Stores, Tesco has asked for TinyTalk classes as a priority in King's Lynn and Blackpool- and in ALL the other Extra Stores' Community Areas being rolled-out over the next year.
We hope you enjoy our website. It's full of information on the benefits of baby signing, allows you to find a baby signing class near you, and also buy our award-winning baby signing home-learning resources from our shop.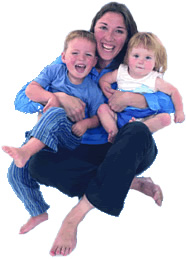 Happy signing!
Katie Mayne
Founder and Managing Director of TinyTalk
The benefits of signing with your baby are numerous.
Here are just a few:
Knowing what your baby is thinking about, how they are feeling or what they are wanting
Giving your baby a means to express themselves (through baby signing) months (if not a full year) ahead of words being spoken
'Tuning in' to your baby, giving them your time and attention
Allowing your baby to feel very happy, knowing that you've understood them!
Minimising tantrums that come from not understanding each other
Introducing language to your baby (via baby signing), which then gives them the confidence to speak
Giving them a great foundation in speech and language in the pre-school years - so that they start school fully prepared and not playing 'catch up'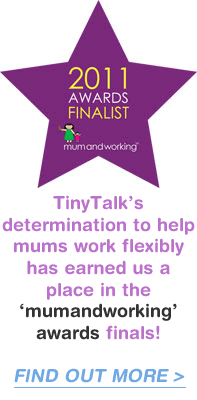 Just a couple of examples of how baby sign language helps - from my own 2 children:
When Harry was 7 months old and I was late with his milk one morning, he gave a cry from his room and then made the 'milk' baby sign very clearly to me!

When Lucy was a bit older, at 10 months, she got very excited one day when we were shopping. A flock of birds had flown down, around her pushchair. Lucy was so excited that she made the baby sign for 'bird' all around her, whilst also saying 'b!' 'b!' 'b!'
On both occasions the children baby signed something that was important to them. They were delighted to be able to express themselves. I was equally delighted to have a 'window' to their minds - not just guessing but really knowing what they were thinking about.
WHY NOT FIND OUT IF THERE'S A TINYTALK BABY SIGNING CLASS NEAR YOU? >
Find out more about baby signing via the following useful links:
We're now the UK's favourite Baby Signing classes
We now deliver over 500 baby signing classes a week, teaching baby signs to over 7,000 families. Visit our testimonials page to read lots of lovely stories from happy TinyTalk families, all benefiting from teaching their babies to express themselves, long before they can speak.
And, if you can't make a baby signing class, you can still learn baby sign language at home, using our award-winning baby signing DVD, CDs and Signing Pack! All are available through our shop.
We also offer very comprehensive Baby Signing Training Programmes. These are for nurseries, childminders, health professionals and full-time working parents who maybe aren't able to make the classes.
And if you fancy joining the team, doing something fun and worthwhile, working with your baby, we'd love to hear from you!
WHY NOT FIND OUT IF THERE'S A
TINYTALK BABY SIGNING OR TINYTALK TODDLERS CLASS NEAR YOU? >
And now for Toddlers too!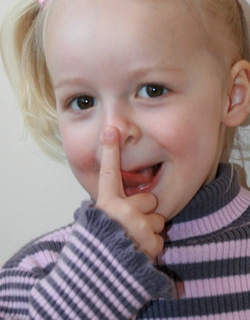 Our TinyTalk Baby Signing Classes have been such a success that we've now grown up a little and offer fantastic TinyTalk Toddlers Classes!
Offering the same top-quality language teaching as the Baby Signing Classes, through themes such as 'meal times' or 'bedtime', we continue to have fun with well-known action songs, sharing great story books, playing with puppets, props and percussion instruments. As the children are older though, and generally standing, the classes are more physical, with even greater interaction, parachute fun and lots of language games. Again, through both speech and signs, we give your toddler the encouragement to communicate, whether through signs or speech. (One child recently said 'banana' for the first time at a TinyTalk Toddlers Class!)
FIND OUT MORE ABOUT
TINYTALK TODDLERS CLASSES >
FIND A TINYTALK TODDLERS CLASS NEAR YOU >
Find a class:

Search our site:
Our news
Why mums love us:
"I have been coming to the TinyTalk Halesowen class for over a year now and can't imagine my Monday m..."
- Tatsiana Marchek, Halesowen
Our partners
OUR GALLERY: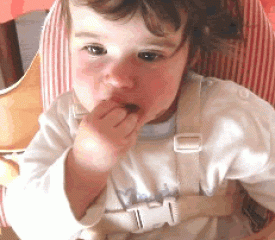 Annabel signs 'food' for the first time! (Louise Derry, Binfield)
In our shop...

'jump' CD
£7.70
Now with 15% off to mark our 15th birthday this April!
Weekly sign: "CAT"