Julie's Class Hall of Fame
Below you'll find a selection of the best photos - taken in class and ones you have submitted of your little TinyTalker signing at home. Also the best of the signing stories that you have shared in class. See the next tab for star signers! Finally, there are some class testimonials taken from the end of term feedback forms. If you would like to become a part of this page, please contact me with your contributions asap!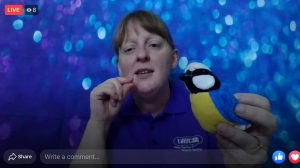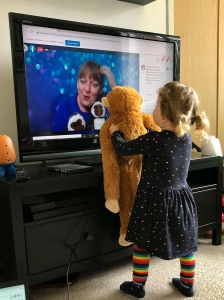 "I've been with Julie for the last 3 1/2 years taking my first son & then my second son. Every Thursday night my eldest gets so excited knowing he is going to TinyTalk in the morning. It has helped amazingly with communicating with my boys & has especially helped with my eldest who has slightly struggled with his speech. Julie is a wonderfully enthusiastic individual & every class is full of fun & energy often ending in my boys having a nap on the way home....always a bonus! She makes everyone feel so welcome & very quickly bonds with the children! I'm not looking forward to the day we no longer go as the boys are too old!"
Natalie,
Ley Hill
STORY: My own daughter Katie's first sign "milk"- January 2009.
I had thought that Katie had signed milk earlier that week but as you'll all know, when they first sign at you and you are by yourself, you can't quite believe it and worry that it may not happen again! (and no-one will believe you!!)
On the Saturday, we had gone out for a meal and Katie slept in her carseat between us in the booth right through to dessert. As the icecream arrived, she opened her eyes, looked straight at her dad, stuck out her hand and did the milk sign. Well, he nearly fell off the seat in shock (as he thought I actually just sat and drank coffee with ladies on a Monday morning!!) and she drank the whole bottle :)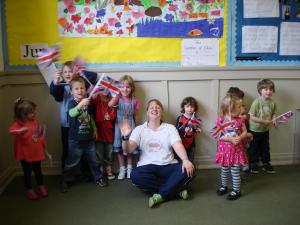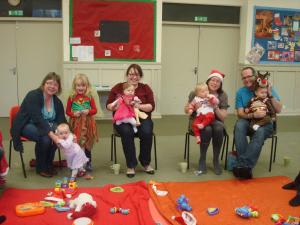 My son started Toddler Sign when he was two, having never been to baby sign. He'd had an issue with his hearing and had grommets fitted. He wasn't really talking and he woud get very frustrated when he wasn't able to communicate. He loved toddler sign from the very first class and so did I! Julie and the other members were so friendly and welcoming. It wasn't long before he started joining in with the activities and became confident enough to start saying a few words. This was the first place I heard him count to five! He is now talking all the time, infact he never stops!! We are still going to classes as he enjoys all of the activities and its a great place for mom to have a nice cup of tea and biscuits too. Thanks
Rita,
Toddlers - Northfield
STORY: Sophie - 5.5months "milk"
Sophie was crying in the evening only a couple of hours after feeding. We assumed her teeth were hurting her so tried various remedies. We then notices that she was frantically doing the milk sign so I gave her some milk and she drank the whole bottle!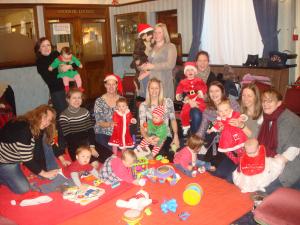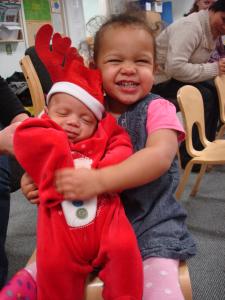 PARTY FEEDBACK! Thanks for making Jessica's 1st Birthday really enjoyable with all her friends! You were just perfect with all the nursery rhymes, teddies and toys.
Bev & Jessica
STORY: Bethany - 11.5months "more"
I was eating my dinner. I had eaten it all and started to cry. I started to clap and my mummy said 'do you want some more?'. I then signed "more" correctly like mummy was doing and nodded my head. My mummy cheered and clapped and gave me some more food :)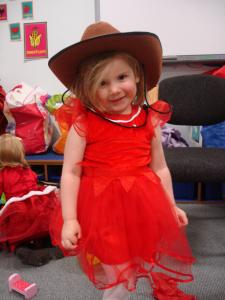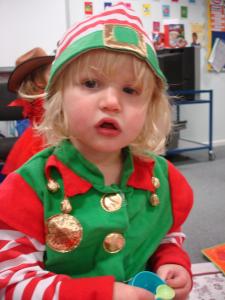 TODDLER CLASSES: I say go for it especially from 2 upwards. Aids communication and limits toddler frustration when they find it hard to communicate.
Lydia
STORY: George - 6.5months "milk"
I was at my Grandma and Grandad's with Mummy and when Mummy prepared my bedtime bottle, I did the milk sign. I now do the milk sign at every feed to tell Mummy and Daddy that I am hungry.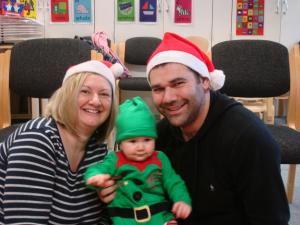 Invaluable for baby & toddler interaction and understanding your child from an early age. Brings you and your child together.
Tara,
Northfield
STORY: Evelyn - 7 months "milk"
I forgot to give her milk!!! She normally has a feed at 3pm but at 3.30 she started to get a bit grumpy. I thought of putting her down for a sleep but then she did the milk sign! I realised I had forgotten to give her a feed so fed her then and she took the whole 9oz in 5 minutes! She was tired though as well because she then slept for an hour an a half! (tiring work this signing lark - Julie x)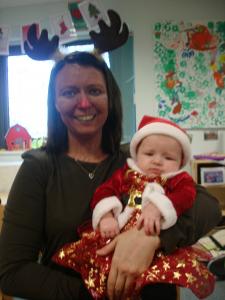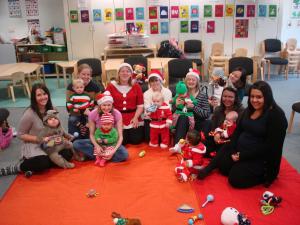 Fantastic Fun atmosphere. Babies and Parents enjoy all aspects of the class!
Amerdip & Kirpa,
Northfield
STORY: Evie - 8.5months "cat"
I was playing with mummy in my bedroom when one of my cats came into my room to see us. I looked at my mummy and she signed 'who is it?' I replied "cat" using the sign! Well done Evie, Mummy is very pleased with you ! x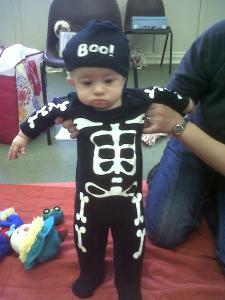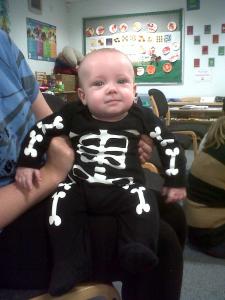 A fun class and my daughter enjoys coming here. She took a while to start signing but once she started it was amazing! I would definitely recommend it for bilingual children - we speak 3 languages at home.
Eva & Anna,
Northfield
STORY: Cayden - 6 months "drink"
(Julie says - Cayden's mum had come into class for at least three weeks in a row thinking that he might have done the sign for milk but couldn't be sure, so didn't want to claim it as his first sign. It caused quite some excitement in class each week to see if he had actually done it. On the fourth week, when asking for signing stories, the whole class looked on with baited breath to see if Cayden had now done the sign and his mum even tried to get him to sign in class....but no. So we all turned away to carry on with the class when.......)

I was in class when my friend's mom Sally suddenly noticed that I did the sign for drink and mommy gave me my water!!

(Julie says - well done Cayden! But fancy stringing us all along for all that time and then not letting us all see you sign!!!)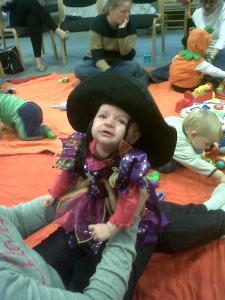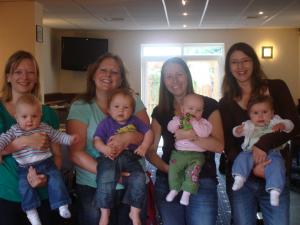 It is the highlight of our week!
Marion & Florence,
Northfield
STORY: Stephen -9 months "milk"
I was sat on Daddy's lap (in class) watching the signing after I had some milk. I wanted some more so I signed for milk and mommy gave it to me.
(Julie says - well done Stephen for doing your first sign for us all to see!)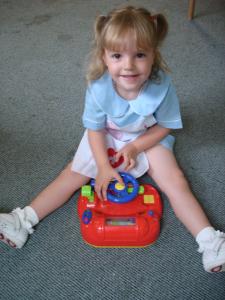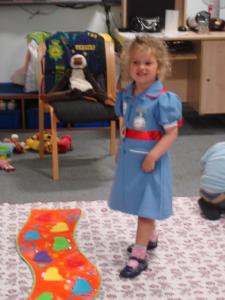 Come along and give it a go - it is such a laugh! Something a little different, fun and it is working!
Zoe,
Alvechurch
STORY: My Son Ellis, having been signed to since birth this time around (as I started at 3 months with Katie) did his first sign at JUST 9 WEEKS OLD!! He had his bottle as usual and ordinarily that was sufficient. However, after this bottle, he was miserable (most unlike him) and his right hand by his side kept twitching. Nanny asked if he was signing and fetched another bottle which he drank half of! I was not so sure but sure enough, later that day, he did the same thing! Clever little boy! x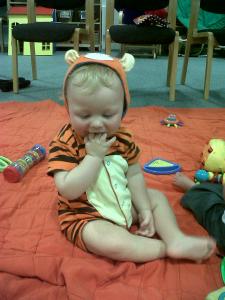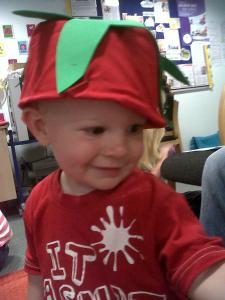 Please come to these classes - they are great! I would definitely recommend that you ignore all comments about it slowing down speech - my son's speech rapidly improved upon starting classes
Sam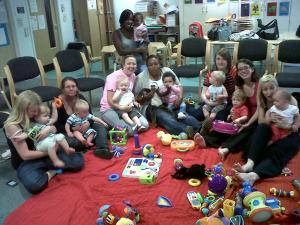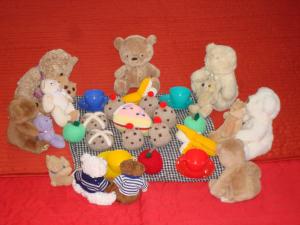 I'm now on child number two with TinyTalk. I love the fun classes and I really feel that learning signing with my eldest child really enhanced their speech and vocabulary.
Claire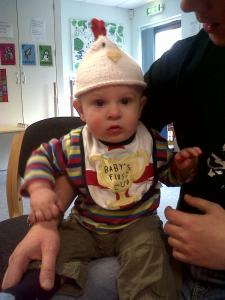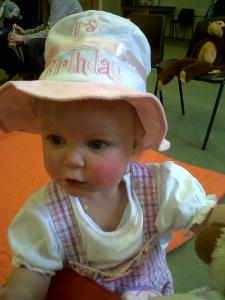 TINYTALK BIRTHDAY PARTY: Thankyou for making Rosie's first birthday so very special! She had an amazing time and so did all her friends, young and old!! I would recommend anyone to have a TinyTalk party and to come to class. We have so much fun!
Davina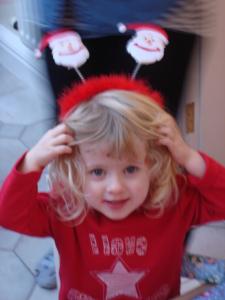 This opportunity to develop 'sign' with my baby through to toddler has been so enjoyable and one of the most rewarding aspects of my child's develpoment. It has increased my enthusiasm and passion for baby sign and its benefits for very young children.
Nicole,
Toddlers - various