TinyTalk Treats!
Coming soon...
The UK's favourite Baby Signing Classes turn 13!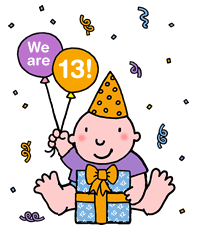 We are thrilled to have turned 13 years old! Since 2002, we are so proud to have helped thousands of young families understand each other better, communicating with simple signs, long before their babies can speak.
From Guildford in Surrey, the classes instantly gained attention and quickly went national then international. Entertaining babies and their families around the world, from Dublin to Dubai, Guernsey to Sydney, the TinyTalk team of experienced and enthusiastic teachers has grown to nearly 150-strong. Multi-award-winning, TinyTalk is a massive success story, now with new sensory classes, a more energetic toddler programme and Ofsted- approved training courses for childminders and nursery staff.
TinyTalk is the leading baby signing organisation in the UK and the company of choice of leading brands, charities and organisations, such as Disney, Booktrust and Supernanny. Currently working closely with Tesco, TinyTalk is delivering Baby Signing Classes in their new Community Areas across the UK.