Baby Signing Classes from TinyTalk: what a leading language expert thinks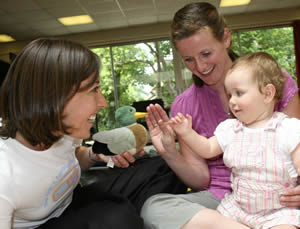 Sue Aldridge, Education Consultant and Former Head Teacher of a Nottingham Beacon Infant and Nursery School, writes:
"Imagine directly teaching young babies all the skills they need for communication. Imagine strengthening the bond between mothers and babies with laughter and physical fun.
Imagine teaching babies skills, which will significantly aid the development of their brains at a critical time in their early development; skills which will enhance speaking and listening, improve reading and writing.
Imagine involving little babies in activities which will engage the left and right hemisphere of the brain.
Impossible with children so young?
Not now. TinyTalk baby signing classes offer all this! They enable babies to communicate. Turn-taking, eye-contact, facial expression, intonation, body language: all are both taught and caught to enable babies to communicate before language is present.
Over the weeks of the baby signing course the baby's concentration and confidence grow. Learning takes place to everyone's immense satisfaction and enjoyment. Baby signing should be available in schools and nurseries. It's magic!"
And now baby signing is available in nurseries! So contact us for more details.