About baby signing

About TinyTalk

More about TinyTalk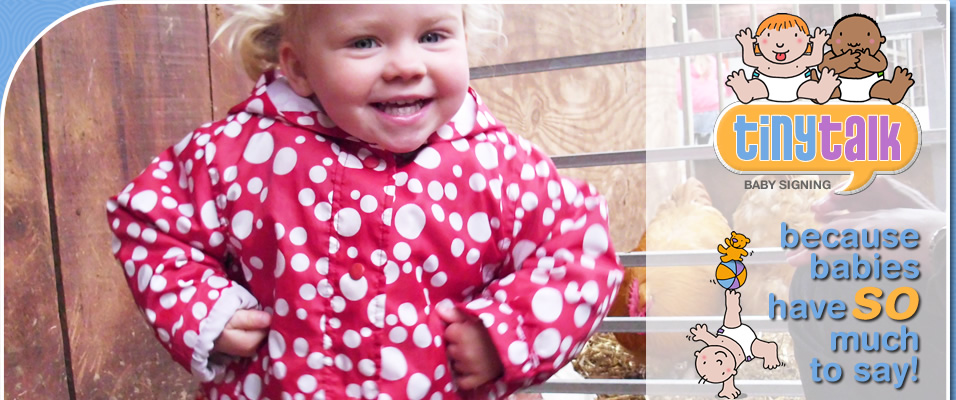 Videos and photos of signing babies

There's nothing quite like seeing your baby making his or her very first sign! And if you're lucky enough, you might just capture it on camera! In our gallery below are photos and videos taken by parents of their babies signing and having fun at their TinyTalk class. We think there's really no better way to bring the fun and magic of baby signing to life than to show you babies signing.
If you'd like to add a photo or video clip of your baby signing, then we'd love to have it. Just use the form to the right to upload it.
We'll then add the best ones...
happy and smiley!
with a clear sign
and an obvious 'object' of what the sign is in the background (e.g. a flower if 'flower' is being signed or chicken if 'chicken' is being signed!)
...to this page. Thank you!
So enjoy our gallery of signing babies!
- Becky Laudan, Norwich (19/05/2013)

- Claire Storey, Derby (13/03/2012)

- Toby Moorhouse, Llanharan (05/02/2012)

- Becky Laudan, Norwich (01/11/2011)

- Katherine Fatherley, (14/10/2011)

- , (09/08/2011)

- , (06/08/2011)

- , (05/08/2011)

- Deborah Hart, Kent (21/07/2011)

- Hazel Webster, DERBY (13/07/2011)

- Alison Dodd, Newbury (10/07/2011)

- Sherry Edwards, Lymm (03/07/2011)

- Hazel Webster, Derby (22/06/2011)

- Sarah Barnsley, Halesowen (06/06/2011)

- Laura Fergusson, Cardiff (24/05/2011)

- Daniella Poonawala, Pinner (24/05/2011)

- Rosemary George, Birmingham (24/05/2011)

- Maria Holloway, Hackford (24/05/2011)

- Chris Kemp, Chester (24/05/2011)

- Henny Ebben, Maldon (24/05/2011)

- Lisa Chung-How, Cambridge (07/05/2011)

- Lisa Chung-How, Cambridge (07/05/2011)

- Laura Jones, Pinner (29/03/2011)

- Henny Ebben, Maldon (01/03/2011)

- Therese Markham, Warrington (17/02/2011)

- Katrina Dell, Waltham Cross (20/01/2011)

- caroline , Nottingham (09/05/2012)

- Alex Moore, T (23/03/2012)

- Nikki Horton, Coleshill (15/03/2012)

- , (05/03/2012)

- Jodie Williams, Nottingham (17/02/2012)

- Laura Boura, Loughborough (09/02/2012)

- Laura , Cardiff (26/01/2012)

- Joanne Louise Payton, South Woodham Ferrers (18/10/2011)

- Donna Ellesmore, Cradlley Heath (12/09/2011)

- , (05/08/2011)

- Akalia Maclaurin, Skirpenbeck (17/07/2011)

- Eluned Winney, Pontyclun (05/07/2011)

- , (02/07/2011)

- Therese Markham, Warrington (20/06/2011)

- Beth Peat, Wokingham (06/06/2011)

- Maria Holloway, Hackford (24/05/2011)

- Tracey Spooner, Chesterfield (24/05/2011)

- Sally Wheeldon, Southfields (24/05/2011)

- Maria Holloway, Hackford (24/05/2011)

- Katrina Dell, Waltham Cross (24/05/2011)

- Daniella Poonawala, Pinner (24/05/2011)

- Lisa Chung-How, Cambridge (07/05/2011)

- Alissa Knight, Coventry (07/04/2011)

- Laura Jones, Pinner (29/03/2011)

- Henny Ebben, Maldon (01/03/2011)

- Therese Markham, Warrington (17/02/2011)
| | | | | |
| --- | --- | --- | --- | --- |
| TOP LINKS: | INFORMATION: | TINYTALK: | FIND: | OTHERS: |
| | | | | |