Our baby signing teachers

"Our TinyTalk teacher Lucy was superb. She made us all feel so at home, and you could tell that she had been really well trained. "
- Amanda Welch, Harrogate
All our baby signing teachers are professionally trained and experienced in baby sign language. They come from a wide range of backgrounds with a multitude of skills and all with one common passionate belief: baby signing works and everyone should know about it!
The founder of TinyTalk baby signing classes, Katie Mayne, has a Bachelor of Education degree from Cambridge University (1992) and a Post-graduate Diploma in Special Educational Needs from Birmingham University (1999). She has a background in education with specialisms in language and music. Katie is a qualified and experienced Primary School Teacher and Teacher of the Deaf and has worked in a number of schools both in London and around the country for over 10 years.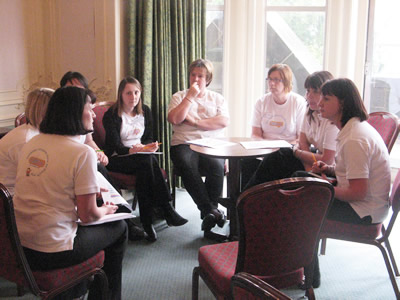 The very best training
Katie also has British Sign Language (BSL) stage 2, is a qualified and experienced Teacher of English as a Foreign Language (TEFL), and has been the Music Specialist in a number of schools (choirs, assemblies, concerts, musicals….!)
Her own English language teacher training has been extensive enabling her to become a specialist in teaching language knowledge, skills and understanding to young children.
Katie has found it the perfect background to teach other mums the joys of baby signing to their babies.
USEFUL LINKS: