mumandworking awards finalist!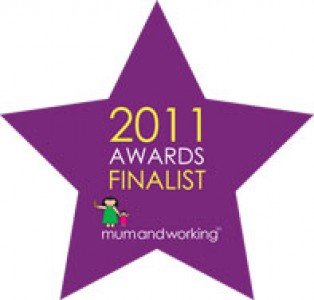 TinyTalk were thrilled to be finalists in the 2011 mumandworking awards! The awards, organised by www.mumandworking.co.uk, aim to reward, recognise and celebrate companies and individuals that make flexible working possible.
Their aim is to prove that family-friendly employment not only supports family life but gives real benefits to the companies involved.

Sarah Beeny, TV presenter, author, entrepreneur and said of the event:

"As a mum of four boys, aged 6,5,2 and 1 - I completely understand the importance of flexible working and the value of spending time with your family. It's great that the mumandworking awards celebrate the people who are making this possible for parents across the UK and its great to see so many successful mums out there taking part."

The awards were hosted by the fabulous inspirational coach Alexandra Watson as seen on the X-Factor, across the national press and founder of the 'Happiness System at Work'. Seven award categories embraced the full spectrum, celebrating working parents, flexible employers, mumpreneurs / parents in business alongside two new awards for the best start up of the year and the best growing business.

Said TinyTalk founder Katie Mayne:

"I'm thrilled as TinyTalk have always considered children to be everyone's top priority - and work then fits around them. Yes - you can work AND be there for your children! TinyTalk have proven it. It doesn't have to be 'either or.' You really can have both."